With realtors selling 4,940,000 homes in 2014, according to the National Association of Realtors, it is not surprising that new individuals are entering the field as brokers and salespersons. There are many reasons for a person deciding on a career path to consider going to real estate school. Knowing what it entails can help an individual looking for a rewarding career make that decision.
Realtors Love Their Jobs
A Forbes article on the unhappiest and happiest jobs showed that real estate agents are the happiest in their work among the 21 jobs surveyed. Being happy at work is a prime reason why those looking for a career might want to consider real estate.
Sociable People Enjoy Real Estate Sales
One of the perks of working in real estate is that a licensee is constantly meeting new people. This gives a licensee the opportunity to learn about others and listen to their stories as they are helped to find their dream house. Some of those sales opportunities might even evolve into a lasting friendship.
Every Day Is Different
In many jobs, days can become tedious because the work stays the same. Realtors, however, know that every day is different and can offer new opportunities and challenges. New property listings come up, problems that have to be solved appear, and new potential buyers and sellers call with different wants and needs.
Being a Realtor Lets You Keep Learning
Challenges in a job offer opportunities to learn new things and become the best you can be. Because laws and regulations change, new innovations arise in home building and staying on top of your game is important, realtors are required to take continuing education classes before renewing a license. In many states, this is every two years.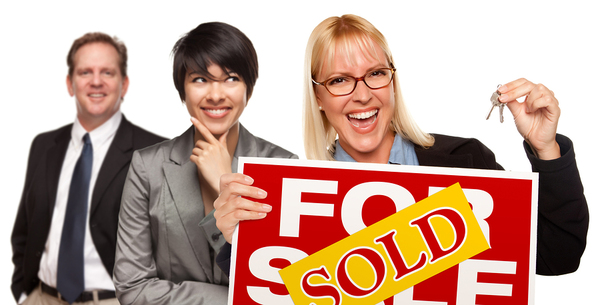 Helping someone find their dream home is rewarding.
Real Estate Agents Can Express Their Creativity
Photographing homes and their rooms or commercial properties lets a realtor use his or her creativity to take the best photos. Realtors also write up property listings, and many have blogs on their own websites. In these and in other areas of this field, a licensee can express creativity to draw potential clients.
The Requirements to Become a Real Estate Agent
Real estate agents are state licensed, and the requirements can vary from state to state. However, the general requirements are that an individual take the educational courses necessary to become licensed, pass the initial exam, be at least 18 years old and be a legal resident in this country.
Continuing Education Requirements
Real estate licenses normally expire in a few years, and the licensee must take continuing education courses to renew a license or it will lapse. The number of study hours and approved courses are usually listed by that particular state's regulatory agency. In addition, the number of hours required may be higher for an individual who has been newly licensed. Subjects frequently include core courses that are required and a list of elective courses.
The Types of Courses Offered
Courses usually include updates in state regulations and laws regarding real estate as a core course. In addition, fair housing practices, ethics in real estate, business practices, and other courses may be offered. Many elective courses are geared toward helping a licensee expand his or her expertise such as green technology used in real estate.
How Continuing Education Courses Are Offered
Usually, courses are offered for continuing education in a classroom setting or as a lecture, through correspondence courses or online through a preapproved provider. Deciding how to take these courses is a matter of preference. While some might prefer a classroom setting, others may prefer to avoid time constraints and use correspondence or online courses. Correspondence courses offer the advantage of being able to study anywhere and at the licensee's convenience, while having the ability to go back and review areas that are unclear. Online courses can be taken using a variety of digital devices such as laptops, iPhones, iPads or tablet, so accessing the courses is possible when it is most convenient.
Finding the Right Online and Correspondence Real Estate School
PDH Academy offers both online and correspondence realtor continuing education courses in multiple states that have been preapproved as courses of study. Once a course has been completed, you receive a completion certificate, and we report it to the licensing board in states where that is allowed. We also offer phone support for any questions or help. With competitive pricing and group discounts, online and correspondence real estate school courses let a licensee complete educational requirements conveniently. Feel free to contact us for more information.