As real estate professionals know, selling a property can raise a red flag at times, particularly when it is a cash sale for a luxury property. This was brought to light recently by an investigation into a money-laundering scheme in the Miami area uncovered by investigative reporters and linking to offshore shell companies.
While shell companies are perfectly legal, ownership can change hands without being recorded and lead to money laundering in some instances. A few tips on what constitutes suspicious activity and what to do when it is discovered can help. While training and licensing are necessary to become a realtor, there is a reason for the continuing education requirements. Realtor courses taken to fulfill license renewal requirements help a licensee learn of changes in the law and offers an opportunity to increase skills.
The Real Estate Business is Vulnerable to Money Laundering
Because financial institutions present an attractive target for money laundering schemes, there are safeguards to detect and try to limit this activity. However, real estate and other industries may be used to launder money. Since 2000, according to the New York Times, 44 percent of property sales costing over $5 million were made to shell companies. The U.S. Treasury Department announced recently its intention to track the buyers of multimillion dollar properties.
Look at Your Geographic Area
There may be factors in certain geographic areas that may make the possibility of money laundering during a real estate purchase more likely. The Office of Foreign Assets Control (OFAC), which is under the U.S. Treasury Department, keeps a list of countries, persons, entities and groups subject to sanctions. For realtors, the National Association of Realtors provides helpful voluntary guidelines so that licensees can increase their knowledge and awareness of potential instances of money laundering.
Look for Unusual Customer Actions
There are some questionable activities that may be related to a buyer that a realtor or salesperson can look for in a sale or purchase transaction. A buyer who is located a long distance from the property of interest may raise a red flag. Putting the title of a property in another name such as a lawyer, friend or business associate may raise a flag also, as well as placing the property in the name of a corporation, partnership or LLC because the name of the owner may be hidden in this way. Any type of third party involvement that strikes a realtor as unusual may point to money laundering. Foreign officials and their families may be suspect also.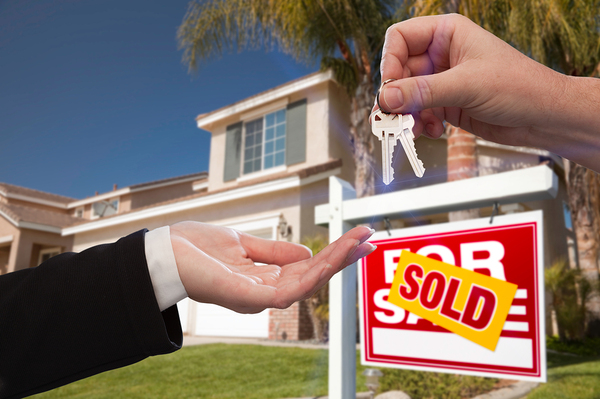 Expensive properties paid for in cash can raise suspicions.
Unusual Transactions Can Raise a Flag
Lack of interest in the pricing of a property can be a suspicious action as well as properties that have been greatly undervalued or overvalued. Unusual cash buyers may raise a flag when purchasing an expensive property using cash or without requiring a mortgage when the buyer does not appear to be someone able to do so. A buyer who brings large amounts of cash to a closing instead of a bank check can raise suspicions. A buyer who purchases a property well above his or her means or sells it right away might strike anyone as suspect, particularly if the price is greatly reduced or increased.
There are other areas that can raise suspicion with a savvy realtor. Purchasing a property without viewing it, a rapid purchase without an explanation that seems reasonable or funding that comes from a source out of the ordinary can raise suspicions.
Realtor Responsibility in Anti Money Laundering
Financial institutions, because they are regulated, have an obligation to report suspicious financial activity. However, a realtor who encounters suspicious activity that might be tied to money laundering should consider reporting it. The NAR suggests reading their section on money laundering and consulting with an attorney and the managing broker of your firm before reporting suspicious activity.
Taking Continuing Education Classes Keeps a Realtor Current on Laws and Regulations
Realtor classes serve the dual purpose of instructing an individual studying to become a realtor and to keep realtors abreast of changes in state and federal laws. Choosing realtor courses outside of a classroom setting can make a difference in how easy it is to study to meet the hours required in each state.
PDH Academy makes realtor courses easy because courses are available online or through correspondence. Online courses can be accessed with your laptop, Android, iPad, iPhone or on a tablet, so it is possible to complete courses from any convenience location or at any time. We offer courses in a number of different states, and they are preapproved in each state for continuing education. Contact us for more information or to enroll.